Smriti Lakra, Guna, Madhya Pradesh
Do you remember the cute plushies from the K-Dramas or the beautifully printed plates or floral printed mugs with intricate designs, attractive stationeries, and much more? South Korea has always been known for its cute, attractive, and unique products. But, have you ever wondered where do the Koreans shop for them? Well, one of these places is DAISO, which is also one of the most loved stores by South Korean people.
Daiso Industries Co. Ltd. is originally a Japanese company founded by Hirotake Yano in December, 1977. In 1992, Park Jung-boo, the CEO of ASCO Even Plaza, established Daiso-Asung Corporation in Korea. In 1997, the first Daiso store was opened in Korea with the concept of 'uniform pricing' and became the first company in Korea who adopted this concept. In 2001, they started working with Daiso Japan and worked with them till 2011. In 2011 and 2014, Daiso Korea announced that they are no longer a part of Daiso Japan due to the Liancourt Rocks dispute. So, Daiso Korea officially parted ways with Daiso Japan and announced that they are now acting as a separate entity.
Daiso Korea now claims to sell only local products and imported products (excluding Japanese products). Daiso Korea even came up with a unique logo compared to the rest of the Daiso corporation to make it easier for the customers to identify them. Daiso is a chained store and can be found in almost every district of Korea. It has over 1,150 stores all over Korea and each one stocks over 30,000 items. Daiso is also ranked as Korea's No.1 Household Goods Corporation which makes it Korea's national shop.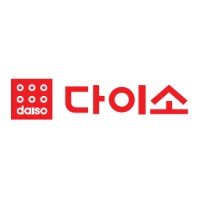 One of the most unique characteristics about Daiso that attracts everyone's attention is its selling price. Daiso sells affordable products with good quality and is also popularly known as a "one-dollar store" because you can do a lot of shopping under one dollar. The price range here starts from 1,000 KRW (Rs. 66) and ends at 5,000 KRW (Rs. 335). 50% of their products costs 1,000 KRW, 3% to 5% costs 1,500 KRW (Rs. 100) and 35% costs 2,000 KRW (Rs. 133). So, the costs roughly lie between 3,000 KRW (Rs. 200) to 5,000 KRW (Rs. 335).
This national shop also provides online shopping services to their customers that allow them to purchase the same items at the same price while sitting at home. They have made it even more convenient with their free shipping policy. But sadly, Daiso Korea doesn't provide any direct international shipping as of now.
Apart from their reasonable price policy, Daiso also focuses on creativity. Their products are always eye-catching and can test one's patience to resist buying. The biggest reason why people love to shop at Daiso is because of its low prices for innovative goods. In the Korean language, Daiso (다이소) is a combination of the words da (다), which means "everything", and isseo (있어), sounding like -iso (이소), which means "there is." Hence, the word Daiso means "there is everything." And yes, you can literally find anything you need from stationery to foodstuffs, utensils to toiletries, cosmetics to DIYs, and much more in this all-in-one store.
Every month Daiso releases more than 600 kinds of new products in their stores that provide the customers a great number of options and variety to choose from while purchasing. Daiso recently released their 2020 Christmas edition. And they all are so cute! They even created a "Merry Christmas with Disney" Series.
So, have you decided what you are going to buy in Daiso when you visit South Korea? If yes, let us know in the comment section!