Sonal Naudiyal (Dehradun, Uttarakhand), Shruti Mishra (Lucknow, Uttar Pradesh), Suparna Mitra (Kolkata, West Bengal), Jasmine Khan (Lucknow, Uttar Pradesh)
The wait for the most-anticipated interview of the year is over! The one which left the fans gushing and giggling in excitement since the day the news was shared with the world. We are talking about the recent BTS ft. Sakshma Srivastav's Indian Interview that took place on 5th June 2021 and was broadcasted worldwide. This interview rightly took the credit for being one of the most well-conducted interviews with BTS having well-intended and meaningful questions that highlighted and focused on each member's distinct characteristics and artistry that shape their music and is a major influence all over the world. Moreover, this interaction also left the Indian ARMYs (BTS' fandom) to rejoice and swell in pride because it unofficially gave the green signal to them as BTS acknowledged India and their strong presence among the Indian fandom; which everyone had been waiting eagerly for years.
Broadcasted over several TV channels and YouTube platforms, this interview was 18 minutes long and was conducted virtually yet face-to-face with the interviewer Ms. Sakshma, who is a famous TV host, show producer, and Miss India Finalist. As this interview is attracting more and more viewers, high praises are being offered to the interviewer, who conducted the interview with such grace and confidence, that left the ARMYs highly impressed with her professionalism as despite being fond of the group herself, she remained humble and respectful while imploring them the right questions. Fans reciprocated her efforts by showering her with love and praises all over social media. Here's a sneak peek and walk-through of what all took place in this interview!
The interview started with an exchange of the Indian greeting 'Namastey' as one by one all 7 members of BTS introduced themselves. Diving into the interview, BTS members were asked to talk about the concept of their new single 'Butter', which debuted at #1 on Billboard Hot 100. In group leader RM's words, "It is a dance-pop track with summer vibes, and we tried to give positive energy to the world. Being an English song, the members did find it hard to pronounce the English lyrics."
Moving further, Ms. Sakshma asked individual questions from each member, notably from the oldest to youngest member, starting with the visual, songwriter, and vocalist of the group, Worldwide Handsome Jin. She asked him whether the fact that he is a hardworking and talented musician who dances and sings like a dream, gets overshadowed by the focus and appreciation he receives for his looks and Jin replies that "it's actually a plus factor, not a minus." In his words, even though looks can distract you a bit, but it does not take away something rather it's like adding decoration to delicious food. His answer left the host and members smiling over his interesting take on the question.
The next question was for the lead rapper, songwriter, and song producer of the group, Suga, who is often known for writing songs that contain heavy messages that are rooted in his own struggles, suffering, and pain of dealing with depression and injuries. When he was asked that to make a song as an artist that is inspired by painful memories is a difficult process because it means revisiting those emotions again, Suga replied, it wasn't that difficult because when working on group music or individual projects, he thinks what to talk about in those songs and when they look back at those experiences, it helps them in telling various stories. Even if it used to be painful to recall earlier, it is not anymore as releasing music helps them to alleviate those emotions. He further added that as many people are living with their traumatic memories, he is sure the moment will come when they can overcome that, as, for him, it is through releasing music.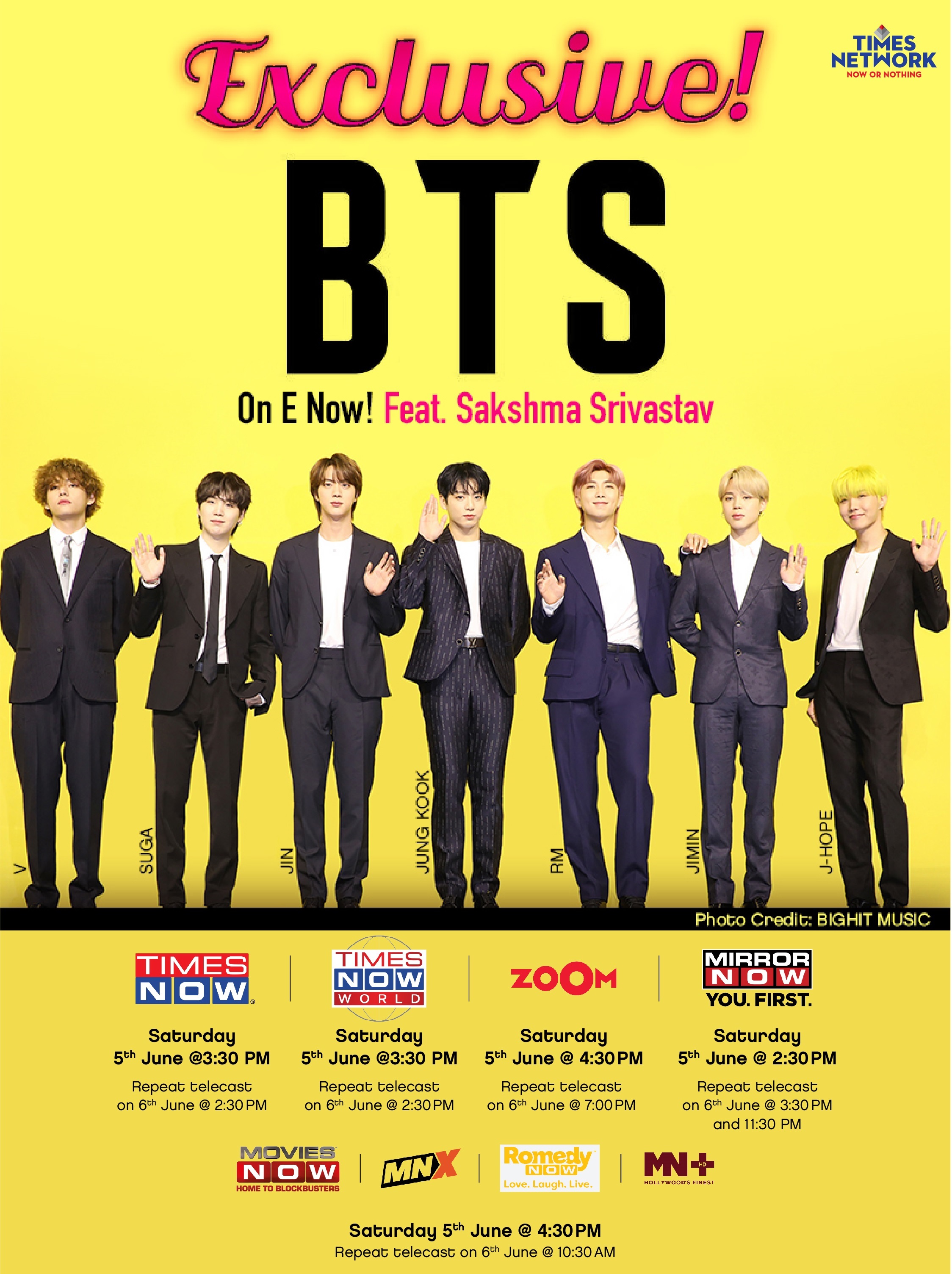 When it came to the main dancer, rapper, song-producer, and choreographer of the group J-Hope, he was first appreciated for the philanthropy where he donated 100 million Korean won towards the suffering children in Tanzania fighting against violence. He was then asked what does BTS dreams to achieve now as they have already been regarded as the most successful band in the world, legends of K-Pop and so much so that every artist aspires to be where BTS is as a group today. He answers, "even though we reached where we are now with all the dreams we had, but at the core, we were just doing our thing, enjoying what we do and everything aligned like destiny, so rather than setting a specific goal, good things will follow if we keep doing our work and do our best." He smilingly added, "Also, the Grammys next year is one of our goals too and we want to keep inspiring people with our music and performances!"
Celebrated lyricist, main rapper, song producer, and leader of the group RM was asked whether it is hard to re-invent yourself every single time and have something new and surprising for the audience despite being eight years old in the industry and after trying so many different concepts and genres. To this, he replied that it has never been easy because on average they release music twice a year, sometimes, thrice a year; so it is a huge amount of content to put in; in the form of music videos, visuals, behind the scenes, and it would be a lie to say there is no pressure and only joy. He proceeds to say that this is the fun of life and career that helped them have the current position where they are as artists today and thanks to that pressure they were able to be creative with new messages, new music, even new hair. To summarise, the pressure to be new and creative every time is one of their biggest motivation. His answers were backed by the host's remarks for always being articulated and intellectual in his choice of words that it is a pleasure to listen to him.
Known for his impeccable dancing skills and heavenly high notes, main dancer and the lead vocalist of the group, Jimin, was enquired whether it is intimidating and makes him think twice before saying or doing anything when at such a young age having the incredible and enormous impact being a part of BTS, puts him in a position where there is so much scrutiny on everything he says or does, as every picture that is taken is dissected and discussed over social media. Jimin admits that they have to be cautious as there is pressure to some extent, but at the same time, it is a testament to how many people are paying attention to BTS. So the fact, that their words and actions can positively influence someone makes them happy. It makes them eager to have an even more positive impact on the world through their actions and words.
From being a secret member of the group to claiming the title of the most handsome man in the world, soulful vocalist, visual, lead dancer, and actor, V, was complimented by the host for having a beautiful voice that has the power to make the listener feel emotions as it keeps getting better and better with time. He was asked whether it is something he has worked on and polished with vocal exercises and practice, or it is something one is born with. After an adorable brief moment of pause during the interview, as he was left flustered over the compliment, he replied that "I used to actually get scolded by my teacher because of how I sang but I kept working hard on improving myself and it turned into an advantage." The host added to his answer that he indeed has a beautiful voice such that if he keeps singing the whole night, the world will listen the whole night.
Lastly, addressing the youngest member, Jungkook, who is the center, main vocalist, lead dancer, sub-rapper, director, and an all-rounder of the group, Ms. Sakshma complemented his latest look in purple hair, leaving everyone including him with a bright smile on his face. He was asked what is the most important lesson he learned in his life that he carried with himself over time after having a slow journey to the top and facing struggles at the beginning of their career. In Jungkook's words, "From our debut until now, I learned a lot from our members, so it is hard to pick one lesson. I had a lot of influence from good people around me for which I am thankful and still building myself as a person."
The group members were also asked how they manage to be happy and excited for every performance despite having a busy schedule and a tiring day. Jin answers that they know their fans are watching them so they have to do their best for them and overcome their tiredness and pour their all.
Further, into the interview, it was brought to their notice that, since India is currently struggling with a hard time due to the pandemic, the Indian ARMYs were able to raise a donation of 2 million Indian rupees in 24 hours and counting towards the relief causes and if they have any message to share to them. RM extends his thanks to the beautiful ARMYs in India and said that "We miss you and hope to be there soon in front of you as fast as possible. Let's stay strong in these challenging times. My prayers go to everyone who is fighting against COVID-19 and be safe. We are together for India, Stay Strong!" and J-Hope remarks, "ARMY do not lose hope."
Lastly, the host didn't forget to ask the highly anticipated question which every fan of BTS in India wants to know, "When is BTS coming to India for a concert?" RM answers this question with "We truly hope the situation improves as soon as possible and if the opportunity comes we hope we can see each other safely. We are sending our best wishes for India's health including sending the support through our partner UNICEF's Love Myself campaign." He laughed when he was told it would be an honor to have BTS in India, as many fans are already saving money for the concert tickets.
The interview was wrapped up with a beautiful moment of BTS trying to say one phrase in Hindi "Indian BTS ARMYs aap humare dil mein rehte hain" which translates to Indian BTS ARMYs you live in our heart. Due to the unfamiliarity with the language, it took them several hilarious and confused attempts to say the phrase correctly at last. You can watch the entire interview here:
As this interview came to an end, we are sure it left ARMYs all over the world with memorable moments and a joyful experience to revisit and see the members enjoy and be themselves throughout the interview. As for Indian ARMYs, well it was a win-win; we have come a long way together after this interview! Share your thoughts about this interview in the comments.